Can small businesses actually make money on TikTok without having to create dancing videos and having to jump on board all the recent trends? We've put together the ultimate guide with everything you need to know about how to earn money on TikTok.
If you're an older millennial, you either caught on with the TikTok trend some three years ago, when the platform had its big surge in popularity―or you were baffled by that new and wild social media jungle. Remember how virtually every video was either a bunch of teens performing a highly rhythmic choreography or someone pointing at different corners of the screen, to words that kept popping up?
Well, TikTok is still largely made up of this kind of content. But two really cool things have happened since then. The first is that the users on the platform learned to poke fun at themselves. And the second one is that TikTok has now developed a fully integrated ecosystem for e-businesses of every niche and size.
So, how exactly can a small-size online store make money on TikTok? Do you really need to be a fully-fledged creator to make that happen? We've got you covered! This post will tell you everything you need to know about making money with a TikTok account.
Turn the volume up, get your reading glasses on and―if you feel like it―try to bust some of the moves below. 🤓
Nobody Sausage is probably one the best TikTok accounts to follow if you want to catch up on the latest TikTok dances and get a good laugh. The videos are cute, the animation is top-notch and the content is that perfect mash-up of trending and horsing around.
The basics: How to monetize your content on TikTok?
If I were to quickly describe TikTok to someone who has never seen any of it, I would probably say that it's sort of a mix between Instagram and YouTube.
It resembles Instagram because both have similar interfaces and tools to make users spend more time in (and engage with) the apps: Instagram and TikTok's main interface with users is feed-based―you can scroll down endlessly and you'll always see new content. Likewise, both platforms allow users to search for hashtags when they feel like discovering new content to follow.
And it's similar to YouTube because they share two traits: They're both video-oriented platforms, and both have specific programs in place for creators who want to monetize their content.
There's a catch, though: Making money on TikTok depends first and foremost on the type of account you'll have. Currently, you can choose between a Personal Account and a Business Account.
The names are pretty self-explanatory, but it's worth highlighting the difference nonetheless. If you're a business and you're planning on selling to and advertising to TikTok users, then you should create a Business Account. But, if you're a creator or an influencer, then the right account for you is the Personal one.
📈 Interested in learning a bit more about Instagram and YouTube before diving into the topic of how to make money on TikTok? We've got you covered.
Why are there two different types of TikTok accounts?
The main thing to know about these different TikTok accounts is that they exist to serve different purposes and objectives. That's exactly why Personal Accounts boast some specific tools that Business Accounts don't have (and vice-versa).
But before we dive into how brands can make money with TikTok content, it's important to briefly cover just where the difference lies.
Personal Accounts for creators
"Creator" is the term TikTok uses to refer to what other social media platforms think of as "influencers": People who make money and get followers by creating content about their lives, their own work or anything that they're into.
It's a wide definition, but you probably know what we're talking about: the makeup creators, the fitness influencers, the lifestyle influencers…You know 'em, you love 'em, you were probably watching one of their TikTok posts just now.
But creators, or "TikTok influencers", are not brands. They don't make or sell products like an online store does. They are the product, because TikTok audiences want to watch them doing something, talking about something, living their lives.
This means that a creator's main source of revenue inside a platform like TikTok is either sponsored content (i.e., working on paid campaigns with brands) or one of the following alternatives:
The TikTok Creator Fund. The Creator Fund is a rewards program for creators, and its main goal is to offer actual money to the people who are putting up great content with their Personal Accounts. To apply for the TikTok Creator Fund, you need to have at least 10,000 followers and 100,000 video views in the past 30 days. You should also be over 18 years old. However, the Creator Fund is currently available exclusively in the US, UK, Italy, Germany, Spain and France.
Going on LIVE sessions. TikTok also offers creators the possibility of making revenue every time they go live. It works like this: Your fans and followers engage with the live session and give out virtual awards or tokens that the creator can later exchange for actual money.
Receiving tips. Another option available for creators eligible for the Creator Fund is the option to receive tips for their content. This allows creators to continuously receive financial support from their followers without having to go live every time.
Business Accounts
An online store, for its part, needs a whole different set of tools and resources inside a TikTok account. After all, you need a proper analytics tool to check on your impressions and follower engagement, and you also need a place where you can create and publish your TikTok Ads, right?
That's exactly why we recommend setting up a Business Account right from the start. That way, you'll have the room to expand and grow with ease, knowing that you're tracking everything right from the start.
It'll also be great for branding purposes, since you'll be working towards a single goal from the get-go.
How to make money on TikTok with a Business Account
Maybe you're thinking, Ok, so my shop needs to have a Business Account. But what kind of incentives and tools can I use, since I won't be able to enroll in something like the TikTok Creator Fund?
Well, there are actually tons of tools that businesses can use to make money on TikTok. Let's check them out!
1. Insert a clickable link on your profile
TikTok and Instagram also share another similarity in their app design, since both platforms offer really tiny spaces for brands to put their bios in.
If you've already created an Instagram bio for your store, you know that the key secret to making it work is to create a good tagline or slogan―and then topping that off with a nice link that redirects visitors to the store's website or another top converting page.
To make money with your TikTok account, the first thing that you should do is edit your bio and make sure that your link is shining through. You can even take a page from Papier's book and add a Linktree to expand your options: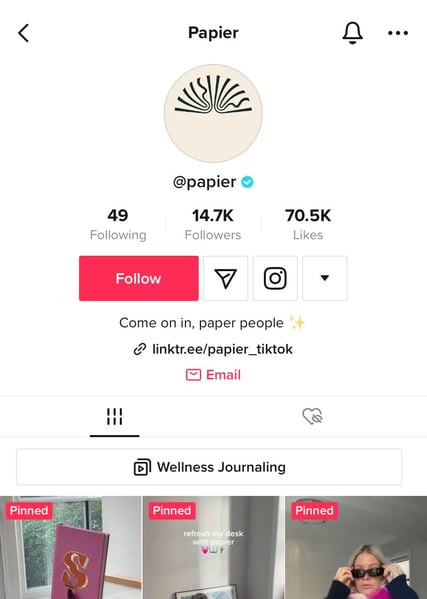 2. Use the Creative Hub
Creative Hub is a great resource for entrepreneurs who want to know how to make money on TikTok.
Designed to be a sort of "faithful companion" for brands that are managing a Business Account, the Hub can be accessed right at the top of an account's Workspace settings and it's filled to the brim with relevant content.
Currently, you can browse through three different sections:
Video Guide: This guide offers in-depth content strategy and expert tips to help you make the best out of a TikTok video. You'll be able to catch up on a lot of really interesting content about how to best place your product and other shooting tips.
Live Guide: Business Accounts can also unlock the LIVE session feature once they reach 1,000 followers, and the Live Guide is where you'll find everything you need to know on how to structure a good live session and help you make money on TikTok.
Business Account Showcase: If you've decided to dip your feet in TikTok waters to earn money, then definitely check out the SMB Stories tab of your Creative Hub. That's where you'll find success stories and some pretty cool use cases about brands that went viral on TikTok.
3. Unlock the best duo: Business Suite + TikTok Ads Manager
This powerful duo is, in all likelihood, the best tools for merchants who are trying to figure out how to make money on TikTok.
The Business Suite works as a sort of admin panel and it's where you'll be able to access the Creative Hub, tweak your account settings and make partnership inquiries.
More importantly, though, the Business Suite will allow you to unlock all of the potential that's hidden in the TikTok Ads Manager. That's where you'll create all of your ads, set them up according to your business goals and track their progress.
✍🏽 How to make money on TikTok using the TikTok Ads Manager: lead generation
Once you start using the Ads Manager, you'll notice that there are a number of different ads you can create for your account. While it's true that all of them will help you monetize TikTok users, it's important you start focusing on the ones that will boost your business revenue and traffic―like the lead generation ad.
Also known as "lead generation objective," this tool helps you create a CTA that redirects visitors to a pre-generated form or to a specific page of your website and can really help with concrete goals, like conversion rate optimization.
4. Liven it up with the Commercial Music Library
You can't have TikTok ads and videos without some nice background music, right? And if you really want to make your content stand out from the rest, one of the best ways to do that is by using a new song.
That's exactly where TikTok's Commercial Music Library comes in. It currently boasts over 500,000 sounds recorded by independent and emerging artists from all around the globe, and every snippet available is already pre-approved for commercial use. This means that you can just select one that you like and fire your videos away.
5. Search for partnerships on the TikTok Creator Marketplace
There are two ways that creators can make money on TikTok: one is the TikTok's Creator Fund, and the other is with sponsored content.
And do you know what that means? That they could be sponsoring your products. To help you find the best creator for your brand, you can head to the Creator Marketplace―TikTok's very own platform―and conduct all your searches there. Easy-peasy!
5 simple ways for brands to make money on TikTok
Now we know what you can expect from a Business Account and what resources are available to your business on TikTok. But since we're already on the topic of how to make money on TikTok, it couldn't hurt to just check out some concrete strategies to make that happen.
Make videos to promote your business
Of course, right? I mean, how could you create a TikTok account and not use it to promote your products and your store?
Remember, though: TikTok is huge. And it offers tons of visual and musical effects to add to a video. That's why you need to really understand your target audience before you start putting out content―after all, there's no bigger turn-off for a follower than to discover that the brand they liked isn't really aligned with their personal values and tastes.
Take Ana Luisa's TikTok, for instance. This jewelry brand is run by young women and is aimed at young women in their 20's and 30's. They are no strangers to posting laid-back, funny videos like the one below:
@analuisany Hoping this lands on the right FYPs 🫡 We've been expanding our solid gold collection and we NEEDED to share. So far we've dropped: • 2x huggie hoops (bold & regular sizes!) • 2x dainty chain necklaces (a basic everyday chain and a delicate paper lip one) • 2x waterproof rings (a twisted and sleek band) • 1x golden paperclip bracelet • And 4(!!) charms to mix and match on your bracelet and necklaces (personalized letter charms, a celestial star charm, an elegant pearl charm, and a luxe floating diamond charm) Happy shopping 💋🫶 #CapCut #solidgold #waterproofjewelry ♬ Poor little bug - Miranda Lee
Sell merch and one-of-a-kind items to TikTok users
If you're big on the idea of strengthening your community and raising brand awareness, you should definitely consider selling merch and other personalized items―and use your TikTok videos to showcase those products.
This will allow you to provide followers and customers with a unique offering, so be sure to pair this with a nice link on your TikTok profile (after all, you want to make sure that they watch the video and then click on the link to make a purchase).
Go live
One of the keys to creating engaging content is to give followers something that feels unique and unmediated―and going live is a great way to deliver just that.
The only thing you should keep in mind, though, is that TikTok only unlocks this feature after an account has over 1,000 followers.
Staging a live session is an awesome tip for those interested in how to make money on TikTok. Because they're extremely versatile, lives can be used for almost every type of event imaginable, from product launches to surprise appearances, like this one by Rihanna.
Close some influencer marketing deals
Posting sponsored content is obviously a great solution if you want to learn how to make money on TikTok, but to make this happen as a brand you'll need to establish your own influencer marketing strategy.
The best thing about this type of deal is that it allows you to reach a wider target audience and, because of TikTok's unique formatting, it also gives you some very special content to post.
Take, for instance, this partnership between influencer Soukeyna and Fenty Beauty. First, the influencer posted a video of herself wearing the brand's products to recreate Grace Jones's iconic look.
Then, some time afterward, Fenty Beauty posted a new video of the influencer on their official account, using other products of the brand:
@fentybeauty @Soukeyna is giving MAJOR main character energy in #ICONVELVET Liquid Lipstick 😍 & reminding us that this shade is called 'The MVP' for a reason 💯 The whipped formula does NOT play when it comes to pigment & will leave your lips feeling plush + comfyyy! ☁️❤️‍🔥 Get your hands on this iconic red lip at @sephora, @sephoracanada, @Ulta Beauty, & on the #fentybeauty ♬ original sound - Fenty Beauty
Criss-cross your platforms
There's one final tip for entrepreneurs who want to figure out how to make money on TikTok: Be smart about not just how you use all of the content you're creating, but also how you manage all of that content.
Having a TikTok account doesn't have to be synonymous with putting out the same kind of videos every day. In fact, you can use the platform's format to post special snippets of some other long-form content you'll be posting on YouTube or making available on Patreon.
Take a look at what Trixie Mattel did here:
How to make money on TikTok: conclusion
We've shared all the secrets to making money on TikTok, and now it's time to roll up your sleeves and create the best content marketing strategy for your business' TikTok account.
Remember that, when it comes to selling on social media, success is all about trial and error. Every video you post will give you information on your audience, on what they think about your brand and what kind of content they are looking for. Look at each video as your own market research, and use the data you collect to finetune your TikTok strategy.
FAQ: How to make money on TikTok?
To make sure you don't leave here without getting all of the answers you were searching for, let's quickly go over this brief TikTok FAQ.
How many followers to make money on TikTok?
You need to have at least 1,000 followers to unlock all of the resources available to Personal Accounts and to Business Accounts.
However, if you're a creator and you want to make money with TikTok's Creator Fund, you'll need to have 10,000 followers.
What is TikTok Shop?
It's a special integration for shops and businesses eager to learn how to make money on TikTok. Its best feature is allowing business owners to create a virtual storefront to showcase and sell their products.
If you're interested in selling online, we've got great news: Shoplazza has partnered with TikTok to offer merchants an even bigger range of options and benefits, like a shopping tab on their TikTok profiles and product links directly on the videos.
How many views to make money on TikTok?
To start making money on TikTok as a creator, you'll need to have at least 100,000 organic video views in the past 30 days. Be extra careful with the word organic: This means that actual people need to have viewed your content, and not some paid bots.
Can I sell TikTok accounts to make money?
Yes, you can. However, this is hard work, because you'll need to create an account, develop a brand, nurture a following and keep on publishing engaging content on a regular basis.
How does the TikTok Rewards Referral Program work?
The Rewards Referral Program allows TikTok users to collect rewards every time they invite friends to join the platform. To actually get the rewards, you need to generate affiliate links and make sure that your friends use that link to download and use the TikTok app.
How does TikTok calculate the funds to pay a creator?
TikTok Creator Fund users need to take into consideration a lot of different elements when they calculate how much they'll earn with their content. Generally speaking, though, TikTok assesses metrics like the number of views and the level of engagement each video has.