The recent pandemic has highlighted how fast consumer trends and behaviors are shifting toward online shopping. In fact, the rise of online shopping is accelerating and won't stop any time soon. As a result, businesses need to take full advantage of these online and mobile shopping trends or risk getting left behind.
That's why Shoplazza is making it easier and more efficient than ever for eCommerce startups and small businesses to get started selling online. It allows business owners to set up websites and manage them from anywhere, even without coding or programming skills. It also has powerful and cutting-edge tools and features that allow your business to grow and scale.
More specifically, Shoplazza is an award-winning, direct-to-consumer eCommerce platform that enables business owners to create and customize websites, sell products and services, receive online payments, and manage customer orders, all from one platform. It also has powerful data analytics and marketing tools built in to help you make good decisions and scale your business.
Furthermore, it provides all the options and tools that your business needs to provide your customers with an incredible online shopping experience, including gorgeous themes and designs, mobile optimization, fast and reliable loading times, various payment options, high-grade data security, shipping and tracking management, email marketing, abandoned cart recovery, customer reviews, social media integration, and blog creation.
For small businesses and eCommerce startups, choosing which platform to use can be a monumental decision that influences the future trajectory of your business. That's why we have outlined the reasons why Shoplazza is an excellent option for your business, including cost-effectiveness, ease of use, fast and free hosting, gorgeous themes for your website, an inexpensive selection of apps and integrations (including email marketing and social media advertising integrations), excellent customer support, built-in payment options, top-notch data security, and scalability and growth.
Cost-Effective and Easy to Use
For many businesses, hiring a professional developer, coder, or designer to create an eCommerce website would be prohibitively expensive and cumbersome to manage and maintain. Fortunately, Shoplazza provides everything you need to create, design, and manage your eCommerce website without having to hire an expensive technical team to do it for you.
Shoplazza is a drag-and-drop website builder platform that is intuitive and easy to use, even if you're not tech-savvy. This means you have all the free tools to build, design, and customize your online store exactly the way you want without any extra costs. You can also list and sell an unlimited number of products on your store and take payments in multiple currencies.
Additionally, the Shoplazza platform is cloud-based, which means you don't have to worry about installing, upgrading, or maintaining software and web servers. Fast and free hosting is also provided by the platform. This is very important because hosting costs can be a significant expense for many web-based businesses. The cost savings from free hosting alone can cover most of your costs on the platform.
Next, the platform also provides you with a custom Shoplazza URL for your online store, or you can connect your Shoplazza store to your own domain. A free SSL certificate is also included for your domain and URL.
When it comes to Shoplazza's pricing plans, they are very affordable so that you can reinvest all the cost savings back into your business. The Basic plan starts at $28 per month and includes unlimited products, free themes, social media integration, discount codes, a 2% commission rate, and six free staff accounts. If you need more staff accounts or a lower commission rate, you can choose one of the higher-tier plans that are also affordable and a great deal.
For a business that's just getting started, the Basic plan gives you everything you need to get your business up and running to sell your products. Shoplazza also has a 7-day free trial to test the platform and its features to your heart's content.
Visually Appealing Themes
When you sign up for Shoplazza, you also get access to free themes that shape the visual online shopping experience of your customers. These free themes are fully customizable and designed to be high-converting, depending on your online store's niche.
When designing the visual appearance of your online store, you want it to look as attractive and professional as possible in order to make it high-converting and get more sales. If your online store looks unattractive, unprofessional, and confusing, it can result in high cart abandonment rates and low conversion rates.
That's why Shoplazza provides readymade themes and templates that are proven to attract customers and drive sales. You can also customize the look and feel of your store to match your brand by changing images and text, choosing different fonts and color schemes, uploading logos, and rearranging the layout.
These free themes are designed for a variety of business niches, including clothing, home products, furniture, electronics, food, jewelry, etc. They are very convenient for business owners who don't have the budget or the technical skills to design their own website themes from scratch.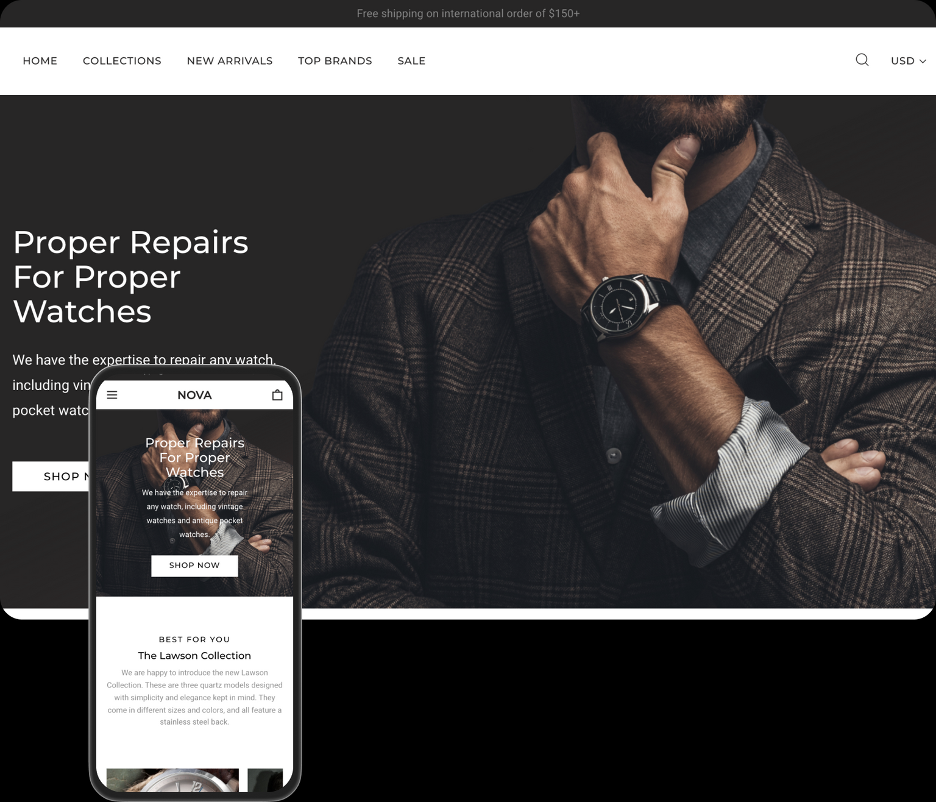 Nova is a popular theme for fashion brands. It is designed for selling apparel and fashion accessories and is highly customizable for your specific brand.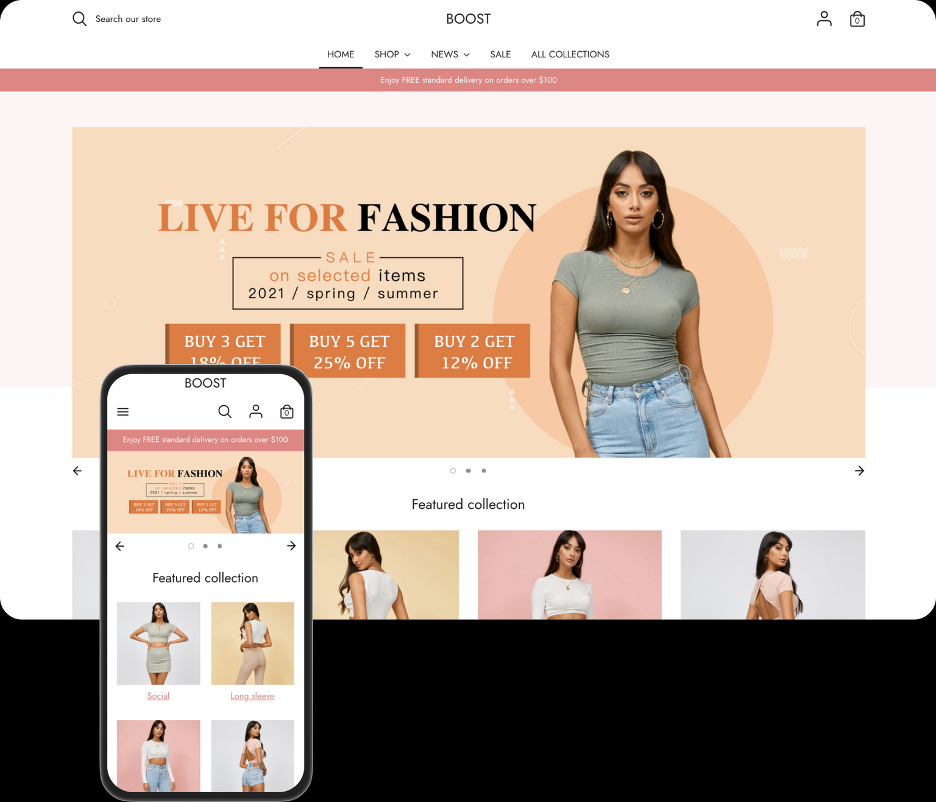 Boost is a versatile theme designed to bring an in-store shopping experience to your online store. This theme is ideal for showcasing your brand and its special products.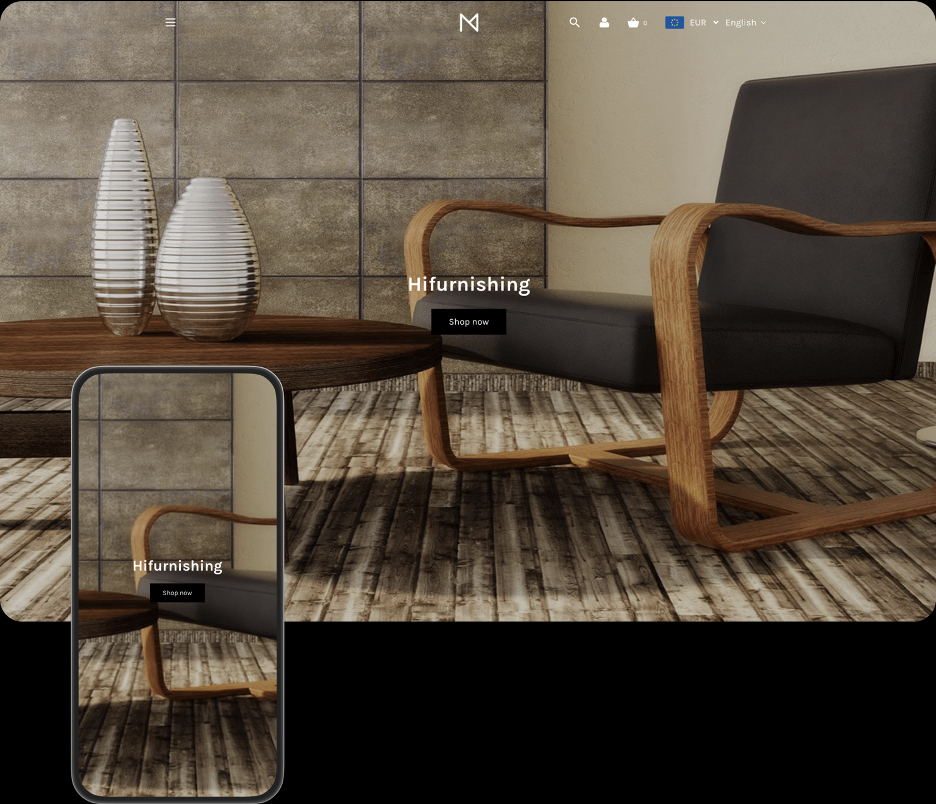 Saturn is a theme designed for home and lifestyle brands. Its big-picture and graphic features are ideal for showcasing your brand with beautiful product pictures and fine details.
Powerful Apps and Integrations
One of the unique features of the Shoplazza platform is its direct integration with social media marketing platforms like Google, Meta, TikTok, Pinterest, and Snapchat. This makes it easy to connect your social media advertising accounts to your Shoplazza store, install your pixels, and track your online store's valuable data to optimize your advertising campaigns and generate more sales.
Another powerful option is Shoplazza's integration functionality with Amazon stores. You can seamlessly sync your Amazon products to your Shoplazza store with one click and funnel your Amazon customers to your Shoplazza store. This allows you to market to your Amazon customers more directly without them being distracted by competitor stores on Amazon, which can help increase your sales and conversions.
Some of the essential apps you will need for your business are email marketing and abandoned cart recovery apps. These are vital for your business because email marketing is one of the most powerful ways to market to your customers and prospects. Many successful brands can generate a whopping 30% of their sales from email marketing alone. Accordingly, Shoplazza has integrations in its app store with top email marketing platforms like Klaviyo, Mailchimp, etc.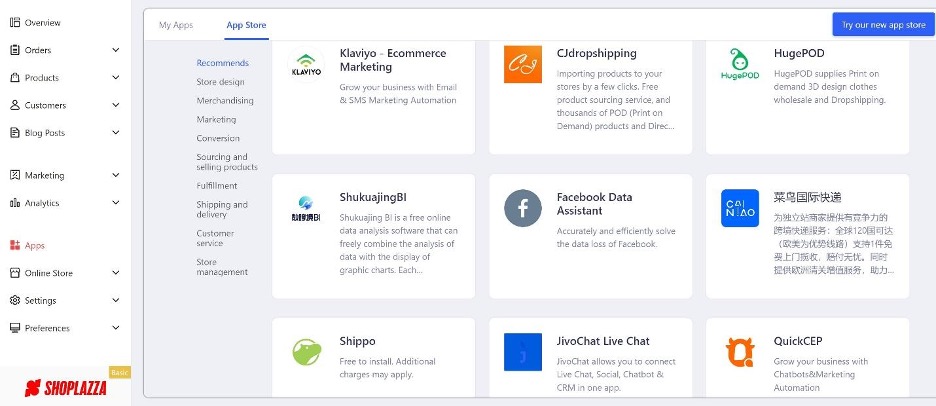 Abandoned cart recoveries can also significantly add to your top-line number by recovering sales from customers who added to their carts but did not complete the purchase. Since the vast majority of visitors to your online store will not make a purchase, just recovering a small fraction of these abandoned carts can mean big bucks for your business. You can use email marketing apps to email customers who have abandoned carts or use the native abandoned cart recovery feature in the Shoplazza platform.
Shoplazza also has a myriad of other apps in various categories, including marketing, conversion, store design, merchandising, sourcing and selling products, fulfillment, shipping and delivery, customer service, store management, etc. The platform also has apps that allow you to change the language of your store and take payments in different currencies, so you can truly sell on a global level.
Built-In Payment Options and Data Security
When it comes to payment processing, Shoplazza has a multitude of options for accepting online payments, including PayPal, Klarna, third-party payment providers, and credit card processors like Stripe, Payoneer, Worldpay, checkout.com, 2checkout, etc. The platform even offers "alternative payment methods" and cash on delivery so that most businesses will have all their bases covered concerning checkout and payment options.
One of the most significant vulnerabilities for small businesses and startups is data and website security. A data breach or website hack can wreak havoc on an online business and cause irreparable damage, especially if customer data is stolen. Unfortunately, many small businesses and startups can't afford an entire IT department to manage their data security. That's why Shoplazza takes care of all the data and website security required for your online business.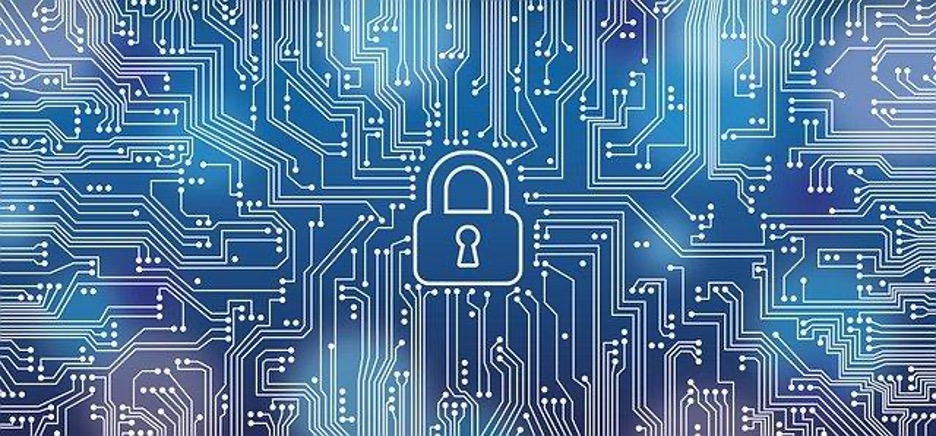 Shoplazza complies with the PCI DSS Level 1, the highest level of user data protection, so your data and online store are completely safe. The company also takes care of security compliance, security upgrades, hacker protection, running and updating servers, backups, redundancy, etc. It also implements fraud analysis and protection when processing payments, ensuring that your business avoids becoming a victim of fraud.
World-Class Customer Support
If you need help with anything concerning your Shoplazza online store, the friendly Shoplazza customer support team is available 24/7 to answer your questions and concerns. You can speak with the customer support team through chat or email.
Additionally, there are a variety of resources available on the website to answer your questions and give you more information. One of the best resources on the website is the Shoplazza help center, where common topics and questions are covered and answered. Another excellent resource is the community center, where you can discuss issues with other store owners and Shoplazza team members and partners.
Scalability and Growth
Almost every small business and startup dreams of being a large global brand one day, and Shoplazza is ready to help your business get there by providing all the enterprise-level tools and technology necessary to scale. While brick-and-mortar businesses need to make highly costly investments in new locations to scale, Shoplazza online stores have virtually unlimited potential to scale and sell worldwide.
For example, Shoplazza offers up to 100 staff accounts so that employees and virtual assistants can log into your online store safely and securely. The platform also allows unlimited products on your store and unlimited free hosting, which is a significant cost-saving benefit.
Many apps on the platform also allow you to streamline and automate various store management processes, allowing your business to scale up faster. Additionally, app integrations with top email marketing and social media advertising platforms enable you to grow and scale your revenue.
Summary of Shoplazza Benefits for Small Businesses and eCommerce Startups
Shoplazza's ultimate mission is to drive global business success for clients through cutting-edge technology. It is able to achieve this mission by making eCommerce as easy and efficient as possible for businesses through innovation and customer-focused solutions.
If you are considering whether Shoplazza is right for your business, here are some of Shoplazza's main features, tools, and options that greatly benefit small businesses and startups:
All-in-one eCommerce solution that offers all the enterprise-level tools and options needed to grow an online store brand
User-friendly, intuitive, and customizable website and store management
Very affordable for small businesses without compromising on full functionality and solutions
Beautiful, free themes that are designed to convert
Powerful apps for all of your online store needs
Built-in payment options with multiple currencies and the highest data security
Unlimited free hosting, unlimited product listings, multiple store languages, and mobile-optimization
Intelligent data reporting and analytics
Integration partners with Meta, Google, PayPal, Klarna, Worldpay, Checkout.com, Amazon, etc.
Dropshipping and POD functionalities
Blog management, SEO, email marketing, and social media advertising features
Free migration from other platforms like Shopify
Sign up today to get a 15% discount! Turn dreams into actions at Shoplazza!