Table of Content
The benefits of dropshipping
How to identify reliable suppliers
Getting started with dropshipping with Shoplazza
Buttonify dropshipping app
Step-by-step user guide
What is Dropshipping
Dropshipping at Shoplazza is considered the most accessible way in entry-level e-commerce. It is a fulfillment method in which you sell products you don't own and stock. Rather than raising your inventory costs by packing your warehouse with an unpredictable product, testing it out with a trial period using dropshipping could be a better strategy for beginners. After you get stable traffic for your online store, dropshipping also allows you to scale up your business with no incremental requirement on work and capital.
In this post, we'll go through the benefits of dropshipping, and provide recommendations on where to source items and identify the suitable providers. Finally, we will provide tips and guidelines on how to establish a dropshipping business at Shoplazza.

To put it in a simple way, let's categorize dropshipping into two main groups.
The first group, "direct dropshipping from Aliexpress". It refers to the way people source their products and later the orders are fulfilled directly by third-party sellers from Aliexpress. The second group is "dropshipping from an app". Well, simply speaking, the application vendors source the products and recommend them to the dropshipping merchants. The latter one, at Shoplazza, merchants have plenty of choices to choose from different dropshipping (product sourcing) app vendors with different features and best selling products.
Shoplazza appstore not only help the merchant to find the products to sell, also expand the product sourcing horizon for them. Merchants can either use Shoplazza featured built-in Skuowner to one-click import the product feeds directly from Aliexpress into your Shoplazza powered store, yes, it is that simple! Once a customer places an order, meaning the customer completes the payment to the merchant. The merchant then go back to the original third-party seller and places a duplicated order, the third-party seller then will fulfill the order and directly ship to the customer. As the merchant, all you have to do is check that the details are correct and click the Order button.
Dropshipping is often seen as a no-hassle, get-rich-quick scheme. But it's not. Just like any other business, it takes dedication to get your startup running and successful. Done well, dropshipping companies can become reliable and convenient partners to quickly growing ecommerce businesses to expedite order and fulfillment processing.
If we can dive into the second dropshipping type for a little longer, "dropshipping from an app". It usually refers to the way that merchants install a particular product sourcing app from Shoplazza AppStore, then the app offers a product marketplace type services where merchants can get visualized product details so that they can directly import these products into their online stores. Once a customer places an order, these dropshipping app vendor will automate your order and fulfill the order directly to your customer for you.
Benefits of dropshipping
Low entry barrier. Dropshipping is a super easy way to start an online business with no capital and inventory pressure, and no need to stock up in advance.
Eliminate you from logistics headache. If you sign up for Shoplazza Basic Plan and be a part of our ecosystem, you will find tools and apps that link you and your store with numerous suppliers. Packing and shipping will be handled by your suppliers according to your requirements.
Wide product sourcing options. Dropshipping is a great way to test out new products or ideas. Many dropshippers provide a wide choice of goods, from highly obscure things to popular or classic ones, if you wish to widen your options.
Easy to scale up business. The most exciting aspect is that you can expand your business with no incremental requirement on work and capital.
Searching for dropshipping suppliers
Finding trustworthy and reliable suppliers is one of the most important aspects in launching a dropshipping business. When looking for suppliers, keep the following points in mind when doing your research.
1. Check raw material sourcing
When you're looking for suppliers to assist you in running droshipping business, you'll want to look for providers that can deliver high-quality goods. Ordering samples from the supplier to assess the product quality is critical to ensuring that the product meets your expectations.
If you dropship from a print-on-demand vendor, for example, purchase a few printed t-shirts to evaluate if the raw materials they use are satisfactory and comfortable for your consumers to wear.
2. Test delivery times
The supplier will handle the packaging and shipping once the buyer puts an order, therefore you'll need to assess the delivery efficiency so that your customers don't lose patience. If your supplier has a history of shipment delays, you should probably re-evaluate your partnership with this supplier.
3. Pay attention to return policy
It could happen that sometimes, your consumer may be dissatisfied with your merchandise and seek a return. It's crucial to understand how your provider handles returns. It would save you from a lot of trouble if they can provide after-sales service.
4. Confirm if they offer custom labeling support
To assist you expand your brand while dropshipping, ask your supplier whether they provide supplementary services like personalized tape, gift cards, packing bags, labels, and hang tags.
If you sign up for the Shoplazza Basic Plan and become a member of our ecosystem, you will find access to tools and apps that link you and your store with a variety of vendors. In Shoplazza, we offer many free apps to assist dropshippers in quickly finding and importing trendy products. The app we are going to introduce today is Buttonify.
Buttonify enables you to import products from AliExpress, Amazon, Etsy, Walmart, eBay, and many other marketplaces with just one click. Key features of Buttonify include:
Provide hundreds of recommended products to discover
Built-in product description editor to retouch images, tag category variants, and more
Automation of routine tasks to reduce your workload
User guide
Step 1 - Install the App
To get started with dropshipping in Shoplazza, install the Buttonify app from Shoplazza App store. Go to Shoplazza App center, under Sourcing and selling products, you can easily find Buttonify.
Step 2 - Add products to sell on your store
There are 3 ways to add your products for sale on the Shoplazza store. Choose the way that best matches your needs.
Source products from Buttonify
Browse products in Buttonify, where you will find a variety of apparel and accessories recommended by Buttonify. You can analyze data and import products from "Best selling" list. Most of these products are sourced from Alibaba and AliExpress, therefore you can find tons of less expensive items than anywhere else. If you don't know what to sell as a beginner, you can start with the products recommended by the platform from the "Best selling" list.
Use the product link
Put the product link from AliExpress or Amazon in the search box. The system will automatically add the product to the Import List. With this function, you will be able to easily add products to your online store, which save you a lot of time and labor.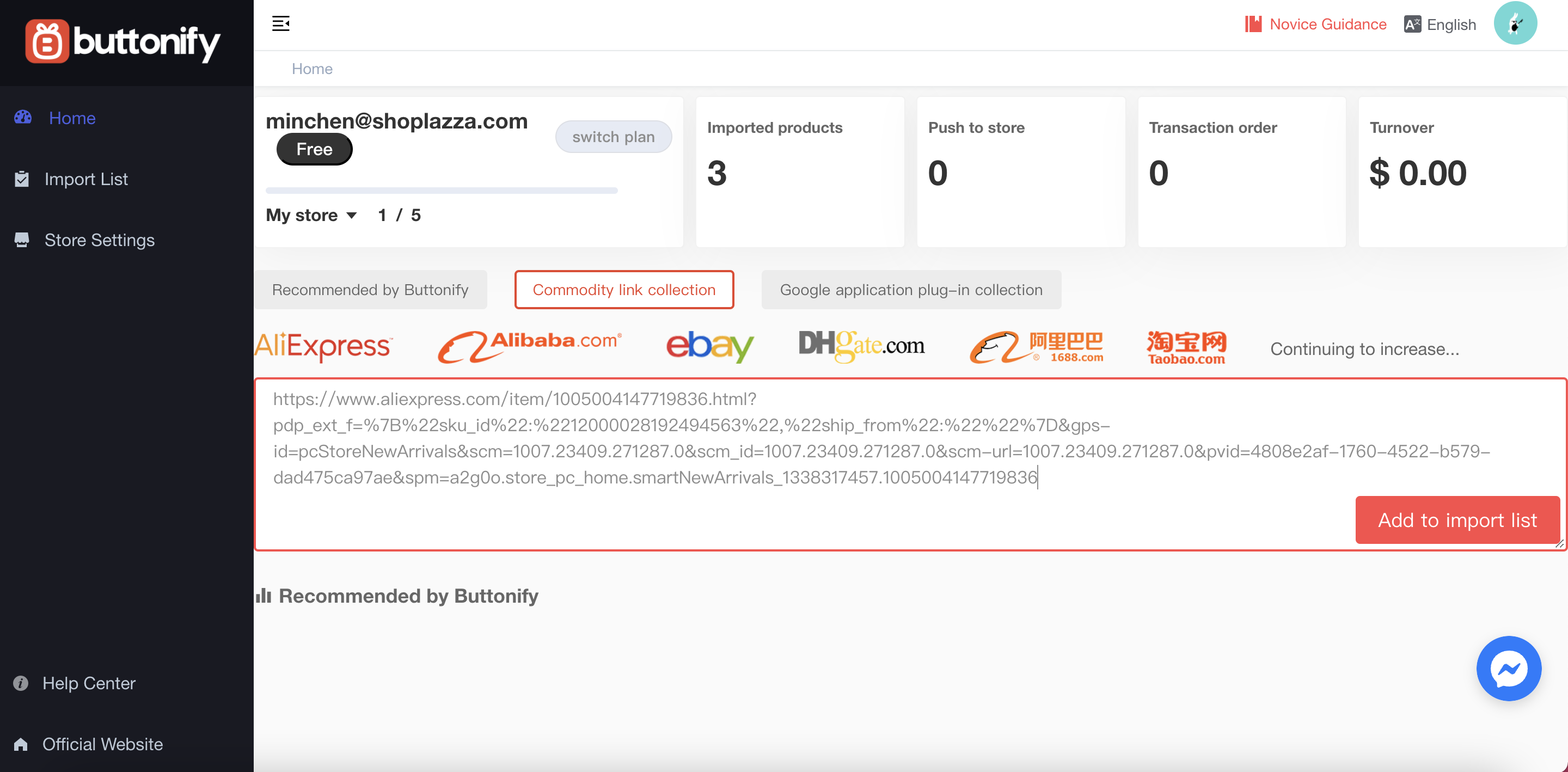 Search for products in e-commerce platforms
Use the Buttonify Chrome extension to search for and collect products from Aliexpress. Go to the Google application market to search for the Buttonify app and install the buttonify Chrome extension.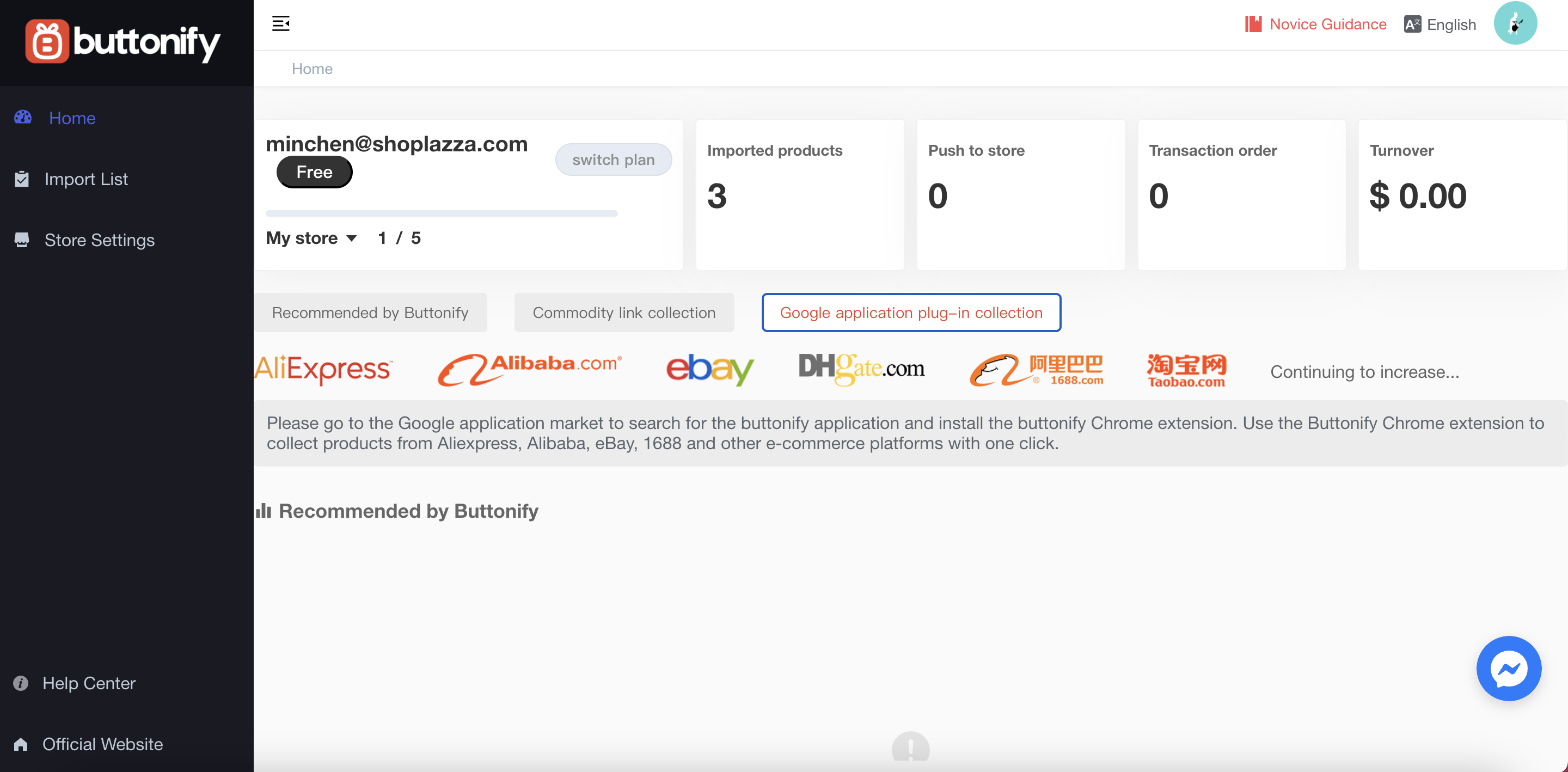 Step 3 - Edit the information and import it into your store
When you import products, you can modify the selling price, inventory, etc. Since a lot of people are sourcing products from well-known suppliers such as AliExpress and Amazon, it's not uncommon for merchants to sell the same things as other dropshippers. Therefore it is strongly recommended that you modify the title and description of products before listing to your store with your own SEO strategy.
Here is how it looked after importing your products from Buttonify to Shoplazza.
After a customer places an order in your store, you simply need to purchase goods for your customer on Buttonify and fill in the customer's shipping address, Buttonify will synchronize the shipment info to your store. That is all there is to it. You don't need to worry about the rest.
Conclusion
Now that we have covered what is drop shipping, some potential problems to avoid, and how to utilize Buttonify at Shoplazza. Although drop shipping is not without risks, if you approach it the right way, it can still help you develop a profitable business.
Sign up today to get a 15% discount! Turn dreams into actions with Shoplazza!
Apple Podcast (coming soon)
Samsung Music