Table of Contents
Intro

Brand abuse

and

IP piracy

Brand and IP protection
How Shoplazza help protect your brand
Lodging complains and issuing takedowns
Monitoring and detecting suspicious transactions
Offering tips to strengthen IP self-protection
Step-by-step guide to reach out to

Shoplazza

Merchant Complaint Portal
Conclusion
Glossary
As we enter a new era of digital eCommerce, we've seen a significant surge for entrepreneurs to start running online businesses. While they gain from the internet's advantages in terms of sales and company scalability, they also suffer from a lack of brand protection. When they build an online presence to reach out to more potential customers, they distribute their brands on worldwide platforms, exposing themselves to new levels of fraud and brand abuse.
Brand abuse and IP piracy
In the digital economy, the intangibles such as your brand and IP are what make your company valuable. People often ask questions like "what is IP protection?" or "how to stop brand abuse?". Before answering these questions, let's look at what the terms mean.
Brand abuse refers to a third party infringing on a brand's intellectual property (IP) in order to profit on its well-established reputation. Fraudsters can steal your brand names and images to create a website or social media page that looks like just yours. If your customers can't tell the difference, they may be cheated and make a purchase from a phony platform. This can result in not just financial loss but also damage to your brand reputation.
Your brand is one of the most important IP assets for your company. Intellectual property is personal or corporate property relating to ideas or inventions in which originality or individuality is an essential feature. Common business IP assets include business names and logos, new products, website contents, product information, etc. Unfortunately, with the rise of digital technologies and file-sharing networks on the internet, brand abuse and IP piracy have increased in size, causing businesses to suffer financial loss as well as putting consumers' lives in danger. According to the International Trademark Association, companies lose an average of 22% of potential revenue due to trademark infringement and counterfeiting.
Brand and IP protection
Among all the measures to protect business intangible assets like brand names and designs, intellectual property rights (IPR) is probably the most important one. There are several types of intellectual property rights such as trademarks, patents, and copyrights. These legal rights are strong tools to protect brand owners and allow them to fully employ his invention/creation for a given period of time. The Canadian Intellectual Property Office website has provided detailed information about how to register different types of your IP.
You may also want to verify your social media accounts, which help visually distinguish you from other fraudsters by having check mark icons or badges next to your account names. This can help you preserve your identity and your brand's reputation. Imagine that your target audience already follows with the same or similar names as yours? This is when a verification account comes in handy.
While closely monitoring the IP portfolio, brand owners also need to develop a mitigation strategy once brand abuse cases happen. The key is to create a direct channel of conversation where your customers can contact you so you can react immediately to tackle the issue.
How Shoplazza help protect your brand
With the mission of "driving global business success for clients through cutting edge technology", preventing brand abuse is a priority of Shoplazza, therefore we are committed to a range of initiatives to assist merchants in enforcing brand protection and allowing them to focus on scaling up their business.
1. Lodging complaints and issuing takedowns
Shoplazza supports intellectual property protection and encourages our users to do the same. When infringing activities happen, we encourage IP owners to report through Shoplazza's complaint portal and submit supporting materials such as screenshots of the websites, chatting history with the fake customer services, or anything that helps identify the incidents. Once we validate the case, Shoplazza will remove or disable infringing contents and/or terminate the user's account.
2. Monitoring and detecting suspicious transactions
Shoplazza also uses a variety of innovative technologies and tools to combat online piracy and counterfeiting. Our payment and risk control team at Shoplazza maintains and scans each online transaction on a regular basis, keeping a close eye on any new transaction risk issues. To resolve disputes arising from online transactions, Shoplazza works closely with our global partners like PayPal and Stripe to combat these types of crimes and ensure our merchants and shoppers are well protected from online scams. If you see something suspicious, you can report to the Shoplazza PayPal dispute center where you can respond, track, appeal, and resolve a case.
3. Offering tips to strengthen IP self-protection
By joining Shoplazza knowledge-sharing community, our merchants will be able to get access to educational resources to gain technical knowledge and insights about brand protection. For example, we share knowledge on different forms of brand abuse to increase their awareness of potential risks. We also offer tips for brand owners to closely monitor their IP portfolio and ensure that new processes and channels of commerce won't be copied or stolen by competitors.
Step-by-step guide to reach out to Shoplazza Merchant Complaint Portal
As a merchant in Shoplazza, if, under any circumstances, you find such piracy cases happen to you, please reach out to Shoplazza Merchant Complaint Portal immediately.
First, visit Shoplazza website and scroll down to the footer area to find Compliant under About.
After clicking it, you will be redirected to a page where you can Report an Issue. If you decide it's an Intellectual Property issue, click it then you will see the SHOPLAZZA Trademark Infringement Notice and Policy.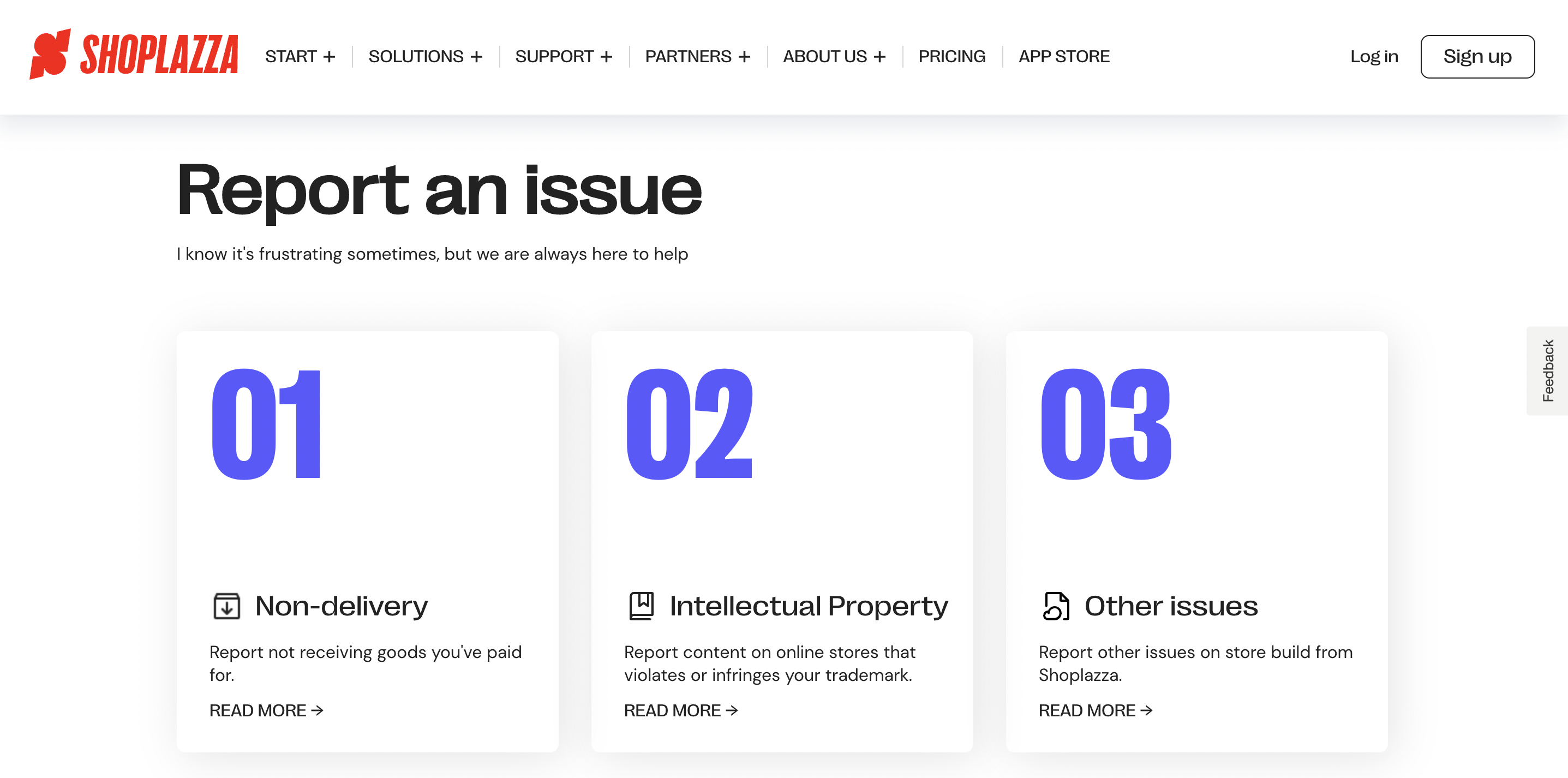 You need to identify the ownership of the trademark before proceeding to the next step. Do note that SHOPLAZZA is only able to process complaints submitted by the trademark owner or an authorized representative.
If you are the trademark owner, you can continue to submit a takedown request. You need to provide your contact information, detailed information about your trademark, and content you want to report.
Once you submit your application, Shoplazza will validate your materials and take actions as fast as we can.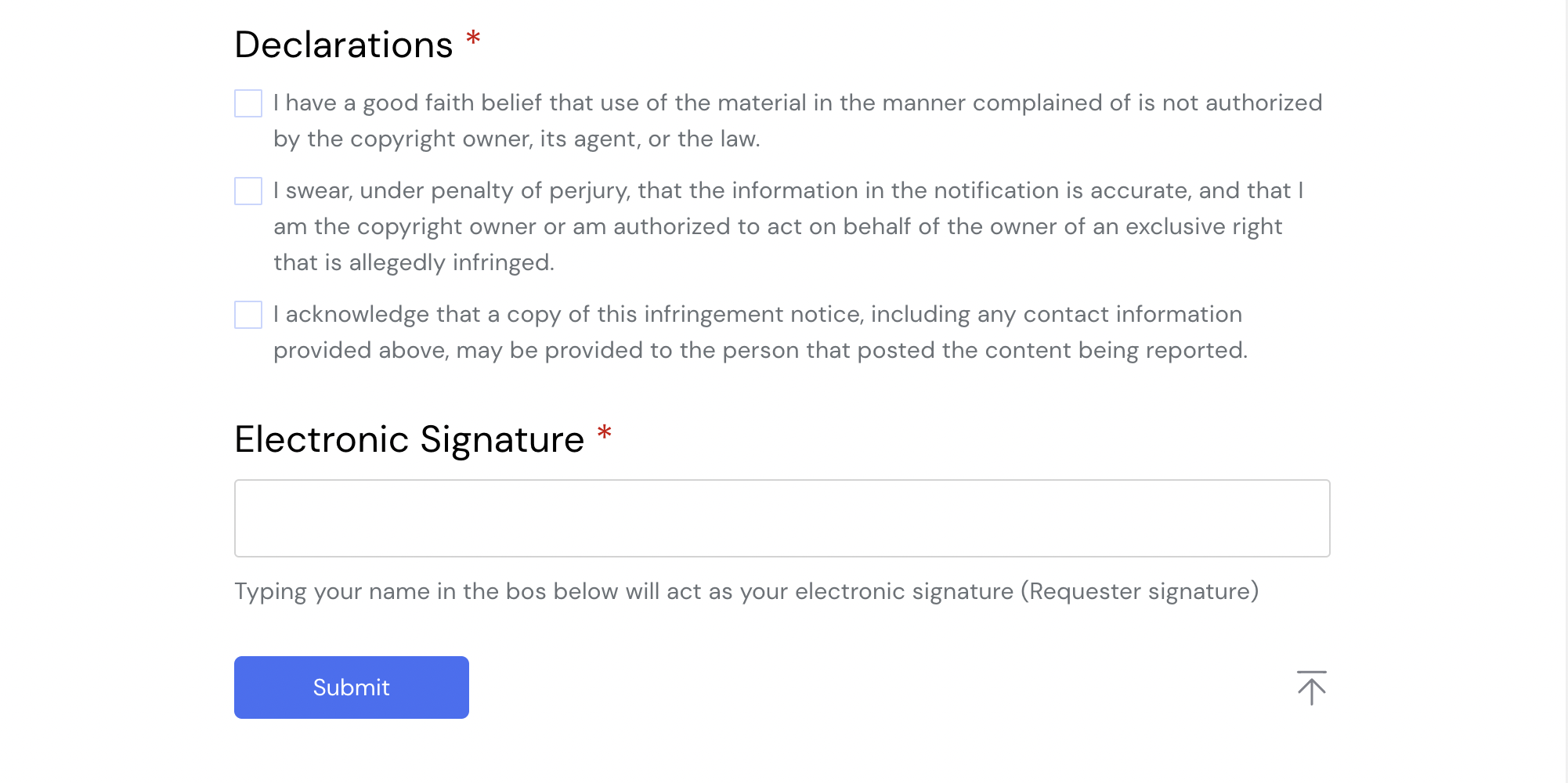 Conclusion
Now you know what brand abuse is and how to protect your IP. We also see how Shoplazza assists our merchants in enforcing brand protection with our technologies and resources. As a SaaS pioneer, Shoplazza is dedicated to helping our clients globalize and scale up their online presence with our technology and ecosystem advantages. In the battle to compete in eCommerce, brand owners can take advantage of all the resources and tools Shoplazza has to offer to fight against online scams and piracy.
Glossary
Brand Abuse: refers to a third party infringing on a brand's intellectual property (IP) in order to profit from its well-established reputation.
Intellectual Property: a personal or corporate property relating to ideas or inventions in which originality or individuality is an essential feature. Common business IP assets include business names and logos, new products, website contents, product information, etc.
Sign up today to get a 15% discount! Turn dreams into actions with Shoplazza!