The order fulfillment process is essential to create an accurate workflow to properly deliver your products to customers. It doesn't matter if you're looking to start a business or are already a successful merchant; you always will find room to improve it!
What is order fulfillment?
The definition of order fulfillment is the process of dealing with customers' orders, receiving, processing and delivering products to them, and all the activities involved between when your client places an order and when it's delivered to your customer's door.
The process is part of supply chain management and focuses on the customer order, meeting customer wishes—considering them stakeholders in the supply chain equation.
Typically, it includes tasks related to inventory management, picking and packing products and everything associated with handling deliveries, returns and exchanges.
That is a way to deliver orders on time, giving your customers the perception that they can trust your business with their money. You know that satisfied customers can become loyal to your company, right?
Order fulfillment process: how it works?
The order fulfillment process varies depending on the type of business and products being sold, but generally, they have common steps that you must follow.
To your comprehension, we will explain the process with some examples, so you can see in a more practical way to improve your order fulfillment strategies.
1. Receiving the order
The order fulfillment process will start when a customer places an order, which could be through a website, phone, or in person.
Suppose you sell jewelry online and your client visits your website looking for a necklace. You'll start your order fulfillment service when your customer fills and pays for the shopping cart.
2. Inventory management
Considering you have an online store or an exporting business, once the order is placed on your order fulfillment system, you must check your incoming inventory to ensure you have every item bought by your customer to fulfill the order.
Storing inventory is one of the crucial parts of selling items. It will give you supply chain visibility, ensuring that you know your overhead costs and creating the perfect environment for you to create your order fulfillment strategy precisely.
No worries needed. Suppose you sell enamel pins but are out of a specific model as part of the supply chain execution. In that case, you must contact a supplier to address customer expectations by receiving inventory.
3. Picking and packing
So you checked your inventory and everything's okay? Now that all has been confirmed, you must select the products from your stock and pack them into a box or different packaging materials—following the packing regulations, the type of your business, the elements of your brand or your preferences.
This is still an essential part of inventory management. For example, how you'll organize and pack clothing brand products is way different than when selling merch or crafts online. Still, there are types of items like digital products that don't even need to be sealed, like online courses.
From one merchant to another: increase your customer satisfaction 🚨
How you pack your products can impact not only your order fulfillment strategy but your entire brand!
Companies are leveraging all they can to work their brands while reaching customer expectations. The boxes they use for shipping products are used as media to promote their business from inside to outside!
Inside every package, you can use tools to position your branding strategies, such as giving your clients discounts or gift cards, flyers with your newest Mother's Day campaign, a thank you letter and even a unique scent for customers to remember your brand whenever they feel that fragrance again.
In the image below, you can see the example of The Body Shop, a store that sells cosmetics and leverage personalization to impact positively its entire fulfillment process!
4. Shipping
Now that all the packages are prepared and ready to be delivered to customers, one essential step is to provide them with a tracking number to monitor the shipment's progress!
For instance, if you're selling plants online, your customers probably want to know what is happening with their camellias until they get to their homes safely.
Usually, shipping labels like UPS or FedEx provide codes for customers to follow the entire shipping process. Still, you don't need to worry if you run a dropshipping business since your suppliers have their own supply chain management.
5. Handling returns or exchanges
Returns or exchanges are something expected while selling online. From damages to customers changing their minds about a product, you must ensure a transparent process to handle those requests.
If you're selling t-shirts on your online store and your customer orders the wrong size or even receive a damaged item, you must have a solid returns policy, accepting the return or issuing a refund.
Outsourcing order fulfillment
Yes, suppose you really don't want to deal with it and want to be more focused on other activities to ensure you get a return on your investment. In that case, it is possible to outsource your order fulfillment process to a provider!
But before giving control of your order fulfillment to a different company, you should at least know what to expect from them.
Types of order fulfillment
There are two types of order fulfillment, the one performed by you and when you outsource order fulfillment activities:
1. In-house fulfillment: You're using in-house fulfillment when your internal team manages the entire order fulfillment process and all the related activities, like packing and shipping items to customers.
2. Outsourced fulfillment: This involves outsourcing the fulfillment service to a third-party provider, who will manage the processes on behalf of your business.
Fulfillment providers can work in different ways, creating a fulfillment model to meet your merchant needs. If your company only needs help in one activity, the provider can manage only a specific action like warehousing.
On the other hand, an order fulfillment business can hold the entire fulfillment service of your company, letting you free of having a fulfillment center and dealing with all the fulfillment operations.
The benefits list of outsourcing order fulfillment
Reduced overhead costs: Outsourcing fulfillment can help businesses reduce costs associated with managing the process in-house, such as staffing, warehousing, and equipment costs.


Improved scalability: Outsourcing fulfillment can help businesses quickly scale their operations to accommodate growth or seasonal demand.


Access to expertise and technology: Third-party logistics providers (3PL) have expertise in managing order fulfillment and access to advanced technology, which can help businesses improve the accuracy of their order fulfillment process.


Faster delivery times: When outsourcing fulfillment to a 3PL provider with multiple fulfillment centers, your business will have an open way to deliver products to more clients since now you'll have access to different locations!


Focus on core competencies: It can help businesses focus on their core competencies and growth strategies rather than managing logistics and supply chain operations.
Ways to boost your order fulfillment process
If you already know the order fulfillment process, it's time to improve it to the next level, reducing fulfillment costs!
There are many ways to increase the efficiency and agility of your order fulfillment service, some with technology or even with minor adjustments in your stock.
1. Streamline order processing
Technology can always be used to reduce errors and save time. From bar to QR codes, you can quickly scan and track inventory, using inventory management and fulfillment software to process orders, implementing an automated system for packing and shipping orders.
For example, an order management system can automate order processing, giving complete information to your team only to pick the right product on the shelf and give it to a third-party logistics company or a fulfillment company.
2. Optimize inventory and warehouse operations
No matter the scale of your business, you can always organize your inventory for efficient product picking and packing. By grouping similar products and implementing an organized labeling system, you can optimize inventory management and ship orders without errors.
One solution that can help you is to use a warehouse management system (WMS), commonly called an inventory system, to assist you in managing inventory, tracking orders and improving workflows, reducing the time during your supply chain execution and shipping costs!
3. Use reliable shipping services
You can always rely on a third-party fulfillment company for your shipping strategies to ensure your products arrive safely and on time at your customers' houses.
Usually, fulfillment companies offer real-time tracking and delivery confirmation, helping you and your customers to keep informed about the status of the placed orders. Finding an excellent shipping solution will help you increase the entire experience involved in buying from you.
4. Communicate with customers
You can keep your customers informed about their products by sending them automated updates on the status of their demands, including tracking information and estimated delivery times!
This practice will increase their trust in your company since you have transparency in all the processes you're working on and give them a better impression of your customer service.
You can track emails and market research to understand the newest ecommerce trends and learn more about customers' habits and the social media platforms they're into to strengthen ties with them.
SSENSE is an excellent example of boosting your customers' experiences through email marketing. The brand sends personalized updates to its clients using their names and brand elements.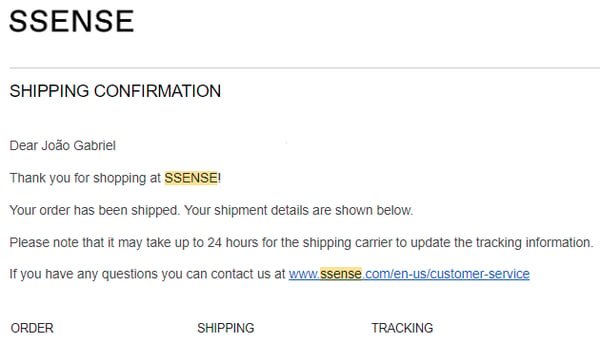 From one merchant to another: increase your customer satisfaction 🚨
More than only sending updates, we can see the example of SSENSE as an inspiration for your online business!
SSENSE not only updates clients about their orders but uses it as a platform to communicate sales, give tips and even for loyalty and review management, asking customers to give feedback about their order fulfillment process.
By asking your customers to give you reviews, you're creating credibility for your business and leveraging their opinions and data to improve your order fulfillment process to the next level, meeting their expectations about what you're delivering.
The reason to transform the email into a point of contact is to, in the end, convert the satisfied customers of your brand to loyal buyers, sending them coupons and establishing a content marketing strategy they like. For example, as a luxury fashion retailer, SSENSE's customers probably want to know more about fashion.
As an e-business owner, you must look at every channel as an opportunity to reach your target audience and know more about what your business offers to the market. Your revenue is a priority and you must ensure that your order fulfillment strategy is being used to increase sales and enhance your profit margin.
5. Have a clear return policy
A clear and easy-to-understand return policy is a must for you to avoid problems with our customers and satisfy them with your order fulfillment practices. The return policy should outline how customers can return their items, what items are eligible for returns, and any associated costs.
For instance, a returns management system can be used to manage exchanges, helping you streamline the process and reducing errors that can affect your business's reputation.
🤔 Looking to start an online business? We prepared three extra tips for you:
Order fulfillment process: conclusion
Now you know that the order fulfillment process is critical to the supply chain, involving the receipt and processing of customer orders, inventory management systems and timely delivery of products!
The order fulfillment process will add value to your business, maintaining customer satisfaction and optimizing the overall order management efficiency.
Now that you have order fulfillment explained is time for you to look to your business and see which of the tips we gave you can help you reduce your shipping costs by reviewing your entire order fulfillment process.
Ready to create loyal customers all over the world? 😉