TikTok is a video-sharing platform where you can make films or view videos produced by others and share them with friends. TikTok, the traditional go-to for lip dubbing fans and dancing youths, is now home to a diverse range of content for all generations and a source of buying inspiration for its about 732 million global active users. TikTok-inspired purchasing occurred naturally when producers referenced items in their TikToks, and viewers went to eCommerce sites and local merchants to find them.
Streaming live on TikTok is a fantastic way to interact with your local community, gather a crowd, and drive traffic to your website. The nicest aspect is how simple it is. There is no need to change anything; simply stand in front of the camera and start chatting. Bringing a partner, or maybe even a follower, into your live stream can help you feel more confident from the start. It will need some behind-the-scenes preparation work if you want your material to be interesting and professional. So in this article, we'll show you how to go live on TikTok step by step to blow up your business.
Table of Content
About Going Live on TikTok
TikTok Live generally means that you stream live to all of your fans on the app. When you make your TikTok live stream public, other users on TikTok will be able to find you. While TikTok is still best known for users submitting their videos, TikTok Live is a terrific alternative. It empowers individuals to go above and beyond what's trending on TikTok and engage with their audience on a more personal level. The finest content creators will also learn how to live the type of material that has already been created about them. Because internet users investigate TikTok Lives of their choosing, public TikTok Lives often attract a larger number of viewers.
You could just stream a live cast to all of your followers rather than produce the perfect videos only. Anyone can just go live with only a few clicks and communicate with your fans in real-time once you've gathered a specific number of followers on the site. TikTok live streaming is easily accessible to users at the push of a button, showing various types of material in real-time, from dancing and cooking to having a dialogue with viewers.
TikTok Live can reach a much wider audience. This interaction deepens the connection between the artist and the audience. It's an excellent tool for content creators who wish to demonstrate their talent or uniqueness through live performances and events. Short videos are popular on TikTok for garnering an audience, but streaming TikTok live lets followers communicate with you in real-time.
How many followers to go live on TikTok?
TikTok, unlike certain other social platforms, requires a few requirements before you may live on the platform. The most significant criterion is that you have 1,000 followers or more. If you don't have a huge number of followers, knowing how to go live on TikTok won't work. You'll be unable to go live. Also, users need to be 16 years and over to access the LIVE. There are pre-selected contribution stickers that allow viewers to send presents to live streamers. During a live stream, gifts are virtual offers from your viewers that may be easily converted to cash. However, according to TikTok's Community Guidelines, users are not permitted to trick viewers into sending them presents. To send and receive presents during a LIVE, you must be at least 18 years old.
If you believe the 1,000-follower threshold is extreme, you are not alone. However, TikTok did not select that number at random. Because the app attracts a younger demographic, TikTok has been under pressure to monitor and censor the information uploaded by its users adequately. Once a person gets 1,000 followers, the hope is that they will be comfortable enough with the site to know what to post and what not to post, making TikTok a secure place for all of its users.
How Do You Go Live on TikTok?
Follow these procedures to go live on TikTok if you match the above requirements:
1- To begin, open the TikTok app and start the camera.
2- Select the Live option for the next step. This button is located beneath the pink button. Under the pink button, scroll through the choices until you find LIVE and click it.
3- The title of your live stream must be entered at this point. It should explain your live stream's content. Make it interesting to draw in more viewers.
4- Select a cover photo, a theme, as well as any frames.
5- Go LIVE by tapping the pink GO LIVE icon.
For greater understanding If you wish to go through the stages in further depth, see the instructions below:
- To launch the camera, first, click the (+) plus symbol at the bottom of your TikTok screen.
- The recording choices are located underneath the red record button. Tap the LIVE option after scrolling to the right.
- Give it a title. Keep it brief and sweet! There are just roughly 25 to 30 characters available.
- Select a cover picture. You can use this as your profile photo or change it to something different. Select a theme, filters, effects, and much more.
- Go LIVE by tapping it. Before your video starts, there will be a three-second countdown. If this button does not appear, check sure you've satisfied all of the TikTok LIVE criteria. If this is the case, there may be many more live streams running at the same time. After a few moments, check again.
Follow these instructions. If you satisfy the TikTok Live standards but are still unable to go live on TikTok, then you should contact TikTok customer service.
- Start the TikTok app.
- In the bottom-right corner of your screen, click on Profile as shown below.
- Select Settings and privacy from the three dots in the upper-right corner.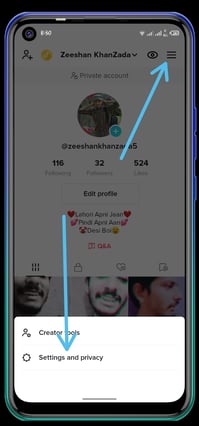 - Scroll down and choose the Report a Problem option under the Support section.
- Go to the Popular section and click on "I can't start a LIVE."
- Select No with the inquiry "Is your problem resolved?"
-Discuss the problems you're having and provide any necessary images. Now click on Report.
7 Tips for TikTok Live
Keep the quality high:
Check the sound quality and avoid noisy interruptions, and use a reliable internet connection to ensure your live streaming seems as high quality as possible. Filming in decent light sources in front of windows will suffice.
Try to stay active:
Make a video before your live stream. A special sign will appear if a person views your video during the live stream, allowing them to instantly access your stream, which would be a win scenario.
Duration of streaming:
TikTok suggests that you limit your live streaming to 30 minutes, although you can go longer. On the one hand, because the site is known for short-form videos, limiting the number of streams might help them perform better. Choose the optimal streaming length for your target audience. The longer you're active, though, the more opportunities people will have to join your session and offer you presents or suggestions.
Start the live stream at the appropriate moment:
When it comes to timing, make sure you launch when the bulk of your consumers are online. This information may be found in the Follower Activity area of your TikTok statistics. The logic is simple: if you go live while your audience is active, you'll receive greater interaction.
Confirm your internet speed and availability:
Having a stream or video delayed or being unable to load is among the worst experiences for viewers. You will lose viewers if this happens while you are live. Before you start streaming, do speed tests to ensure your WiFi connection is stable. You can check your internet speed here.
Keep your information confidential:
Protect your personal information by not broadcasting necessary proof of identity, residence, or contact information when live streaming. Also, make sure there is no personal information or scenery in the backdrop of your videos that may betray your location.
Avoid scripts at all costs:
Certainly, preparation is essential. However, avoid making your videos feel planned. The raw content's genuineness is part of TikTok's attraction. Your TikTok audience may not respond well if your live stream feels rigid and rehearsed. Your live should be planned to give value to both you and your audience, but it should also be casual enough to build a spontaneous relationship.
Conclusion
Going live on TikTok is a fantastic way to interact with your local community, get a crowd, and send visitors to your online store. Speaking of the online store, Shoplazza has a Tiktok Shopping integration, allowing Shoplazza store owners to sync items to Tiktok Shopping to reach a wider audience, bringing in-app buying and speedier product discovery to the platform. Shoplazza is one of the most powerful platforms for using TikTok as a marketing tool; sign up for their 7-day free trial today!