So you want to start an online business but have no idea how. Or maybe you already run a dropshipping business but need some inspiration to add new products to your portfolio. If you fit into any of those descriptions, then this article is for you.
We've put together a list of the best dropshipping products to sell in 2023, organized by product category. Pretty cool, huh?
But hang on, you're not just getting a list of products – a quick visit to any marketplace can give you that. In this article, we'll go over those ideas and give you some data-backed insight into why they are the best dropshipping products to sell online in 2023.
Whether you're starting your dropshipping business or just looking for product ideas for your store, feel free to browse through our list and find a product that customers will love.
The best dropshipping products to sell in 2023
We didn't just pull this list of best dropshipping products out of thin air. All the items you'll find here have been featured as top-selling products on the biggest marketplaces in the world, like Amazon and AliExpress. We've also gathered some data through Google Trends to provide insight into each product's global market trends.
Below you'll find some ideas for the top trending dropshipping niches you can focus on. Let's get started! 💪
Best dropshipping products: Accessories
1. Beanies
They keep our ears warm, they can be fashionable, and they come in any material or color. But, more importantly, they sell a lot! Check out Amazon's best sellers in the Men's Accessories category:
From the image above, it might seem that only black beanies are popular, but most dropshipping businesses offer the same product in several different colors.
Unlike what you may think, beanies aren't as seasonal as other winter products. According to Google Trends, searches for the term "beanie" worldwide peak during the winter months in the northern hemisphere, but they never reach zero, securing them a spot in our best dropshipping products list.
Besides, if you decide to sell your beanies abroad, you can also make a profit by marketing them to countries in the southern hemisphere, where winter happens between June and September.
2. Blue light-blocking glasses
People spend a good part of their days on their computers or phones, and many are now looking for ways to mitigate the impact of looking at screens for prolonged periods. Google Trends shows that searches for the term "blue light-blocking glasses" have remained steady for the past year:
Blue light-blocking glasses are one of the best dropshipping products for 2023 because they're in high demand at the moment, featuring both Amazon's and AliExpress' lists of most popular products.
In order to stand out from the competition, try searching for blue light-blocking glasses with unique frames that come in different colors.
3. RFID-blocking wallets
Tapping is a convenient way to make quick debit or credit card payments. Still, unfortunately, there are people who take advantage of this functionality to pick up a person's card signal with a concealed payment device. RFID-blocking wallets were then created to isolate the electromagnetic signal from cards and prevent modern pickpockets from tapping your card without your knowledge.
But why are they on our list of best dropshipping products? Wallets are popular dropshipping products, and by going for wallets with an RFID-blocking feature, you're giving customers another reason to purchase your product over others.
The listing below, for instance, is one of the best-selling products on Amazon. Notice how the seller included "RFID-blocking" in the product name to help the item show up in searches for the term:
Best products for dropshipping: Baby Products
4. Pregnancy pillows

Pregnancy brings about a lot of discomfort, so why not offer a product that can help soon-to-be moms navigate those painful weeks?
According to Google Trends, searches for "pregnancy pillow" have remained high and steady for the past 12 months:
Another reason why pregnancy pillows are among the best dropshipping products is that you don't have to sell them only to pregnant people. Anyone who needs more support during sleep, such as people recovering from surgeries, can benefit from them.
5. Teething toys
Parents are always looking for toys to help their little ones with teething pains. Check out Google Trends' data on the search volume for "teething toy" worldwide:
Teething toys are always in demand, which makes them some of the best dropshipping products to sell. If you decide to work on the baby products niche, teething toys may help your online store thrive. As you pick your product, however, don't forget to check the toy's quality and certify that it is truly safe for children.
Best dropshipping products: Electronics
6. Dash cams
Dash cams have risen in popularity in the past few years, both as a safety measure and a source of social media content. That's why we've included them in our list of best dropshipping products.
Google Trends indicates that searches for "dash cam" have been stable for the past year:
AliExpress' list of top-selling products confirms the trend: within a week, the marketplace counted 292 orders for a dash cam.
As dropshipping items, dash cams can be profitable products. Prices can go as high as $200, leaving you with a considerable profit margin.
When it comes to electronics, users are really big on quality, so make sure to find the best dash cams and encourage your customers to leave reviews on your product page, which will help your dropshipping business seem more reliable.
7. Earbuds
Not everyone can afford AirPods, and that's why earbuds are some of the best dropshipping products to sell online. Searches for "earbuds" have been consistently high for the past 12 months, and the map on Google Trends gives you an idea of how widespread demand is around the world:
8. Video doorbells
Video doorbells are another layer of security people want to add to their homes, and that's what makes them some of the best dropshipping products to sell in 2023. They allow homeowners to see who's at their door even when they're not at home.
According to Google Trends, video doorbells are particularly popular in the UK, the US, Australia, Ireland and Canada.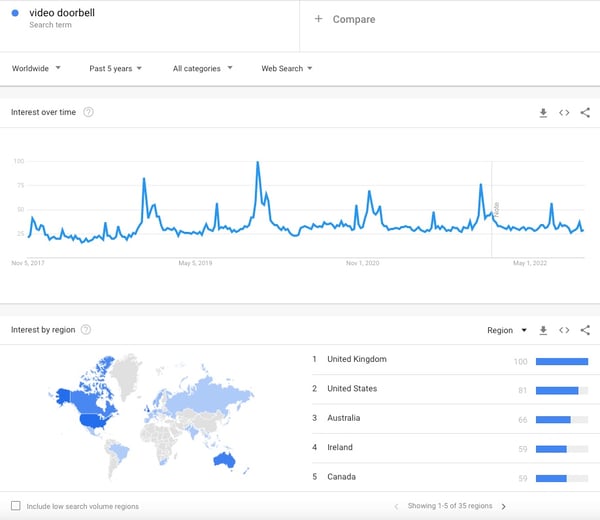 Prices can range from $50 to over $200, depending on the video doorbell's features. If you find a dropshipping supplier that offers high-quality products for a good price, you may be able to keep a healthy profit margin.
Best products for dropshipping: Health & Beauty
9. Gel nail supplies
Nowadays it's hard to find a nail salon that doesn't provide gel nail services. Customers have fallen in love with gel nails, and it doesn't look like the trend will go away anytime soon:
Gel nail products such as nail polish and nail dryers are extremely popular in marketplaces such as AliExpress:
If you decide to sell gel nail supplies in your dropshipping store, you'll have the option to market them specifically to manicurists or to a broader target audience, which includes people who do their gel nails at home.
10. Hair extensions
Changing hairstyles in just a few minutes without damaging your hair; that's one of the many benefits of wearing clip-in hair extensions, and one of the reasons this kind of product is so sought after. Check out how popular they are, according to Google Trends:
Many hair extension users have a hard time finding good-quality products for an affordable price, which is why they often turn to dropshipping stores to achieve the perfect look.
11. Lace wigs
And while we're thinking of selling hair extensions, why not include lace wigs in the mix? Searches for "lace wig" have been steady and elevated, which has secured it a spot in our list of best dropshipping products:
High-quality lace wigs can be quite expensive. However, if you find a reliable supplier, you can sell them in your dropshipping store for a competitive price and still obtain a good profit margin.
Best products for dropshipping: Home & Decor
12. Boho wall art
Decor trends are always changing, and you can benefit from people's desire to update their homes by selling home decor products. For the past year, customers have been particularly interested in a boho style:
Boho wall art is one of the best dropshipping products because they're in high demand at the moment and you can let your creativity run free when picking what to sell! You can either choose products from dropshipping suppliers or start a print-on-demand business.
Instagram and Pinterest are the best channels to promote your boho wall art because they are highly visual, with many users looking for decor inspiration on those platforms. In fact, Pinterest is one of the best social shopping sites and shouldn't be overlooked when developing your marketing strategy.
13. Digital meat thermometer
There are a lot of people out there tired of ruining oven-cooked meals, and you can provide them with the perfect solution to their problems by selling digital meat thermometers.
While meat thermometers are in demand all year round, they seem to be particularly popular at the end of the year, when people are getting ready to prepare turkeys and other roasts. Check out how the searches have spiked between November and December for the last five years, according to Google Trends:
As you can note, the search volume never reaches zero, and meat thermometers are highly sought after in the US and Canada, making them some of the best dropshipping products to sell.
Now here's a tip for you: as the holidays approach, consider going heavy with your marketing strategy to make sure your meat thermometers stand out and become profitable products.
Best dropshipping products: Pet Products
14. Pet beds
The pet supplies market has plenty of opportunities for those who want to start a dropshipping business, but one item gets the spotlight: pet beds.
According to the American Society for the Prevention of Cruelty to Animals, one in five households got a dog or a cat during the pandemic, which helps explain why the demand for pet products has gone up since 2020 and doesn't seem to be declining anytime soon:
Pet beds can vary in size, material, color and shape. As you set up your product page, make sure to write product descriptions that match the items you'll sell.
How to start a successful dropshipping business
Now that we've gone over the best dropshipping products to sell in 2023, let's see how you can start a profitable dropshipping business.
1. Learn how dropshipping works
It's likely you already know what dropshipping is, but if you're starting a dropshipping business, you need to understand how every step of the process works. We've selected a few guides to help you out:
2. Choose the best products for dropshipping
We've given you a list of the best dropshipping products, but that doesn't mean they are your only options. You can always do some research on your own to find other top-trending dropshipping products that better suit your ecommerce business.
Here are some places where you can look for inspiration:
Marketplaces like Amazon and AliExpress provide sellers with a list of best-selling dropshipping products, and you can use them to identify items or even niches that are in high demand at the moment.
Google Trends allows you to search for keywords related to your dropshipping business ideas and find out whether people are looking for products like the ones you plan on selling. Based on the search volume, you might be able to tell if demand for a market or a product is ascending or declining.
Social media hashtags are an amazing way to find trending products. Select a few keywords and browse through social media posts that include hashtags related to your dropshipping product ideas. Influencers are also sources of valuable information because they're trendsetters and usually in the loop when it comes to the hottest products in the market.

3. Do market research
Once you select the best dropshipping products for your ecommerce store, it's time to validate your ideas.
Unfortunately, passion alone won't make a successful business. You need to ensure there's demand for your dropshipping products and figure out the best way for your store to stand out – all with the help of market research tools and reliable data.
While you browse through the trending dropshipping products, you'll get a sense of whether they are in high demand. As soon as you settle on a product, however, make sure to gather as much information as possible regarding the product itself, the audience and the market. You can do that by:
Defining your target audience. Who are you selling your products to? What are their demographic characteristics, interests and desires?
Carrying out surveys. Don't limit yourself to friends and family. Go after the people who best fit your target audience, and that often means conducting online surveys through market research tools like SurveyMonkey and Think With Google. Come up with questions that help you figure out what customers are looking for and can't find.
Reading product reviews. There might be products similar to yours out there, but that doesn't mean customers are happy with them. What are they complaining about? Can you find a product that solves their problem?
Assess the competition. Running a

competitive analysis

will help you identify gaps in the market and differentiate your products from the rest.
3. Build an online store
If you want to run a profitable dropshipping business, consider launching an online store. While you can sell dropshipping products exclusively in marketplaces, owning an ecommerce will help you consolidate your presence in the market and give you more control over your online business.
The first step to building your online store is choosing the best ecommerce platform for dropshipping. Shoplazza, for instance, allows you to integrate your store with dropshipping services like AliExpress and CJDropshipping. And the best part is that you get to try Shoplazza for seven days to see if it's a good fit for you – no credit card required.
4. Find the best dropshipping suppliers
You can't sell the best dropshipping products if you don't have the right third-party suppliers.
Searching for dropshipping suppliers can be challenging, particularly for first-time ecommerce store owners. But you are perfectly capable of choosing the right partners for your business! As you contact potential suppliers, make sure to ask the following:
Where is their warehouse located? Some suppliers are based in the US or in Canada, which can reduce shipping times.
How long does it take for them to fulfill orders?
What are the shipping costs?
Do they offer samples of their products?
If you own a Shoplazza store, you can use SKUowner, our dropshipping plug-in designed specifically to help our merchants find the best dropshipping products and suppliers.
5. Market your dropshipping products
Once you start your dropshipping store, you need to spread the word. While selling on marketplaces takes some of the marketing efforts off the seller's shoulders, you don't want to rely solely on those websites to promote your dropshipping items. Even if you choose the best dropshipping products ever, you'll still need to invest in marketing them.
The good news is that owning a dropshipping store allows you to focus on marketing and customer service, as your suppliers will be in charge of fulfilling your orders.
Here are some marketing strategies you should consider:
Start selling the best dropshipping products of 2023
This list was created to help both newbies and seasoned entrepreneurs figure out what to sell in 2023. Our ranking is far from comprehensive – there are simply too many profitable dropshipping products out there! Through the resources we've given you, however, you should be able to find the best dropshipping products for each specific niche.
We'd also like to remind you that the best dropshipping products are always changing, and today's winning products might differ from next month's. For that reason, it's important to keep up to date with the market by running searches on Google Trends and assessing both your store's performance and your competitors.