1. Why is the post-purchase phase important?
Customer conversions determine your revenue, but offering a high-quality post-purchase experience is just as important. Recent studies show that up to 86% of surveyed online shoppers agree that the post-purchase experience is fundamental to their loyalty to a brand and the likelihood of future purchases. Repeat purchases can really drive up profits, even an increase of 5% in retention rates could grow your store profits by 25%. Businesses must invest more in their post-purchase processes to stay competitive and sustain growth.
Returns make up a large part of the post-purchase experience. As online shopping evolves, the need for better handling of online returns has similarly increased. Managing returns can be a real headache, due to high shipping costs, inventory tracking, product inspection, restocking, and customer support. Choosing the right software solution to manage your product returns can boost the efficiency of your post-purchase processes and improve customer satisfaction. AfterShip Returns Center can streamline your returns for effortless management.
2. What is AfterShip?
AfterShip is an automation solution for eCommerce pre-purchase and post-purchase issues. The AfterShip Returns Center is an all-in-one app that can improve the product return experience and is suitable for all merchants.
AfterShip Returns Center differentiates itself from other returns management solutions with its intuitive user portal and fully branded self-service returns page. Whether you're a small business or a large enterprise, you can easily set up and plug into Shoplazza seamlessly. Now that the AfterShip Returns Center is available in the Shoplazza App Store, you can better control your store's return volume and scale your business with confidence.
3. Key features
AfterShip Returns Center is available for all Shoplazza merchants. Let's explore some of its key features and benefits to see how it can help improve customer experience for your store.
3.1. Branded return experience for customers
Returns create friction for your online business. Hassle-free returns mean a higher chance of retaining customers. AfterShip Returns Center allows you to design a branded self-service returns page, with automated return status updates.
Branded self-service returns page
A good impression of your returns process goes a long way in earning customer trust. An unbranded returns page can cause confusion, shoppers will question whether they've been directed to the right page and whether their returns will be properly processed. Thanks to AfterShip Returns Center, you can customize your returns page to reflect your branding, reduce confusion and boost brand awareness. With simple drag-and-drop editing tools, designing the returns page is easy. You can also accept exchanges to help recapture lost revenue and deploy multilingual support for international demographics.
Self-service returns can also save time. Customers no longer need to email support or log tickets to request returns, reducing the tedious back-and-forth that customers despise. Clear rules on non-returnables will also effectively communicate your return policies.
You can speed up processing and reduce your team's workload by automating approvals, label generation, and return routing. Merchants can also collect all the information required to process returns, from product images to reasons for the returns, which the AfterShip Returns Center leverages to provide analytics on product returns to help optimize your offerings.
Custom notification emails
Clear and relevant communication fosters healthy customer relationships. AfterShip Returns Center proactively engages shoppers and reduces information gaps with automated brand emails. Customizing email updates adds another layer of branding to your post-purchase experience. And the availability of multilingual support means your customers can be engaged wherever they are located.
3.2. Easy management of product returns and exchanges
Not all items are returnable. Communicating that to customers can be difficult and creates frustration for customers when their requests are rejected. AfterShip Returns Center allows merchants to set rules for non-returnable items, by specifying products or windows for returns. These rules can protect your business from the return of items that can't be resold, help you save on shipping, and prevent revenue loss.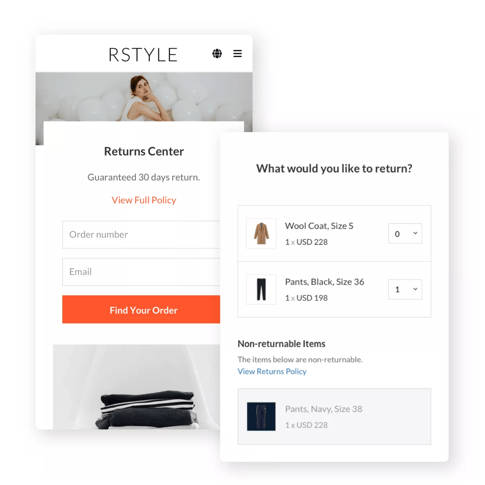 In the Aftership Return Center, customers can choose their preferred method of return and provide relevant information e.g. reason, photos, and comments. You can also opt for manual approvals so that you can collect the information you need and take action accordingly, thus eliminating lengthy back-and-forths with customers. The availability of exchanges and store credits also empower shoppers by providing flexibility and convenience.
Many businesses have more than one warehouse for returns in different regions and, specifically, to deal with damaged goods. You can set automated rules on the AfterShip Returns Center to create return labels for the right location, thus eliminating the need to reship items and saving on shipping costs.
3.3. Save time with automation
According to Aftership, customers need regular updates on their returns. Proactive communication and self-service pages are just the beginning. Automating the entire process, including label generation and returns approval, saves time and resources for you and for your customers. Ensuring your business is able to handle the return volume as it grows can help you build customer trust and lead to repeat purchases.
3.4. Streamline returns management with a centralized portal
Merchants can track and monitor their returns with AfterShip's intuitive portal. You can filter and search for orders, or check order statuses at a glance for quick action. It also offers useful insights that can help you differentiate between different products based on their performance and improve your workflow. You can also use this centralized portal to edit your returns page and automate the product return process to make them more manageable.
4. Testimonials: Marc Noman & PELAGIC Gear
Marc Nolan and PELAGIC Gear both needed a solution to centralize their returns and eliminate the outpour of requests from various communication channels. Their teams would each spend hours every day managing returns, responding to inquiries, and manually updating data across their systems. The two apparel brands turned to the AfterShip Returns Center to get back on track.
PELAGIC GEAR successfully managed customer expectations and minimized shipping costs by setting return eligibility rules and restrictions on non-returnables. At the same time, they offered exchanges and incentives that helped to convert 18% of requests for refunds into new purchases.
As for Marc Nolan, prior to partnering with Aftership, they often rejected requests for exchange due to inventory issues, which negatively impacted customer satisfaction. With the help of the Aftership Returns Center, Marc Nolan now regularly achieves 1:2 in exchange to return rate, allowing them to maintain their revenue.
5. Conclusion
Although returns can mean revenue loss and subpar product performance, 82% of customers are still willing to return to a brand after returning a product. It's clear that offering a seamless return experience is critical for cultivating returning customers.
Shoplazza's new partnership with AfterShip means that you can optimize your workflow right now! Branded return pages are just the beginning, get the AfterShip Returns Center from the Shoplazza App Store today and start addressing your customer needs!